Published on:27 Oct 2011
Business Expo, networking Opportunities and inspiring speakers At Cross-Border Female Entrepreneurs Networking Evening
It was very evident that "Women Mean Business" as almost one hundred business women from across the Central Border Region of Cavan, Monaghan, Sligo, Leitrim, Tyrone, Donegal, Fermanagh and Armagh came out in force to network and do business at a networking exhibition and speaker event held on Tuesday 25th October in the Slieve Russell Hotel, Cavan. The event was hosted by ten female entrepreneurs, about whom a booklet was launched on the night by Janette Sheerman, University of Ulster. It profiled their business story and was commissioned by the project partners – ICBAN, CCEB, CITC, UU and SWC. This group were the first female entrepreneurs to complete the specially designed Advanced Diploma in Management Practices (ADMP) through the University of Ulster as part of the HATCH (Higher Attainment Through Cross-Border Hubs) Programme. The HATCH programme is designed to support and develop a number of groups including Female Entrepreneurs through a series of accredited programmes and networking events and has been part-financed by the European Union's INTERREG IVA Programme, managed by the Special EU Programmes Body. (SEUPB)
As well as networking and browsing an exhibition of products and services from the ten business women, the attendees also heard from a number of keynote speakers including Ellen Gunning, Irish Academy of Public Relations (IAPR) who advised on how to "create leads, generate new business, expand networks and influence people". Susan Hayes, the Positive Economist, spoke on "acknowledging your survival, appreciating your success and anchoring your stability". One of the female entrepreneurs who just completed the HATCH programme, Shauna Gallagher, Natures Inspirations, a skincare products company, spoke about 'her journey' in business and through the HATCH ADMP programme.
Dympna McCarron, Programme Manager of HATCH addressed the attendees at the event and explained that "Just one year ago, the Female Entrepreneurs profiled in this booklet and exhibiting here this evening set off on a voyage of learning and self-discovery which they very candidly share in this publication. They embraced the learning, worked through the challenges of the assignments set by the excellent tutors from the Business Institute of the University of Ulster and supported each other every step of the way. I encourage Female Entrepreneurs to avail of this funded opportunity because women have such an important role in making our local economy stronger."
Cllr Winston Bennett from Cavan County Council who represented the Irish Central Border Area Network (ICBAN) Ltd at the networking event, said that he was most impressed with the great turnout on the night and in particular the enthusiasm there was for embracing the opportunities that exist for entrepreneurship in the central border region despite the current economic climate.
Vincent Reynolds, CEO Cavan County Enterprise Board thanked all the project partners for making the event possible and congratulated the women on their "academic and business Achievement" paying particular tribute to their roles in "positively contributing to the economy of the central border region".
There was great interest in the Business Exhibition with a lot of contacts made. Exhibitors included Anke Morgenroth, Bear Essentials & Silver Bear Centre; who, it's reported, has the largest collection of unique teddy bears in Ireland at her Gift Shop in Bawnboy, Cavan. She also sells worldwide though her online store www.bearessentials.ie: Audrey Gaffney, Be Design, runs an interior architecture firm with clients countrywide, primarily large hotel groups and pub chains: Daria Sadkina, founder of an online hosiery store www.DressMyLegs.ie, showcased some fabulous fashion tights from Veneziana as an exclusive importer of their premium quality products in the Republic of Ireland: Margaret McKeon-Boyle of Extensive PR & Training advised visitors to her stand on how to develop customer relationships to grow their business and stressed the importance of customer care excellence to keep customers coming back: Another business woman that was much sought after for financial advice was Ann Reilly, creator of MyClaim.ie, a company that offers Financial Advice on the many packages offered by Financial Institutions www.MyClaim.ie: Shauna Gallagher of Natures Inspirations was busy on the evening demonstrating her natural skincare products that are available at a number of stockists as well as online at www.naturesinspiration.co.uk: Teresa O'Loughlin of think6 Marketing Solutions was on hand to offer practical and realistic marketing solutions for SME's, while a steady queue formed all evening to speak to Anna Costello and her team from Utopia Health & Beauty Clinic – The Skin Specialists to hear about their many service including Skincare Treatments and Homecare Products. Anna is also the exclusive Irish Distributor of Bioline Jato Skincare & Body Range from Italy.
Entrepreneurs interested in the HATCH (Higher Attainment Through Cross-Border Hubs) Programme, designed to support and develop Entrepreneurship through a series of accredited programmes and networking events should contact 049 4377277 or email HATCHadmissions@cavanitc.ie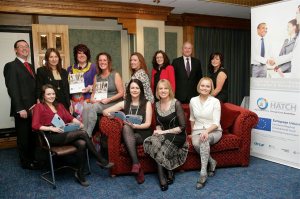 Pictured Back Row: L-R: Steven Pollard, University of Ulster, Jordanstown; Anke Morgenroth, Bear Essentials & Silver Bear Centre; Margaret McKeon-Boyle of Extensive PR & Training; Janette Sheerman, University of Ulster; Teresa O'Loughlin, think6 Marketing, Fermanagh; Marcella Rudden, Cavan County Enterprise Board; Vincent Reynolds, CEO, Cavan County Enterprise Board; Anna Costello, Utopia Health & Beauty Clinic – The Skin Specialists. Front Row: L-R: Shauna Gallagher, Natures Inspirations Skincare Products, Fermanagh; Audrey Gaffney, Interior Architect, Be Design; Dympna McCarron, Programme Manager HATCH; Daria Sadkina of online hosiery store DressMyLegs.