New student intake set out on an Advanced Certificate in Management Practice Programme for Foreign Nationals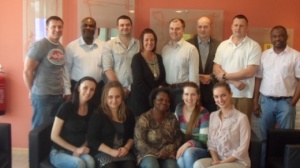 Pictured are some of the participants from the Advanced Certificate in Management Practice for Foreign Nationals which is taking place at Cavan Innovation & Technology Centre. This group are part of the HATCH programme which is designed to educate and provide networking support for eligible participants from the non national community amongst other benefitting groups. The HATCH Programme is part-financed by the European Union's INTERREG IVA Programme and managed by the Special EU Programmes Body (SEUPB). Other courses available through HATCH for Foreign Nationals include English for Employability and CPPD in Customer Care. The courses are based in centres across the central border area, including Cavan, Enniskillen and Omagh, based on demand.
Steve Pollard form the University of Ulster explained how "the Advanced Certificate in Management Practice (ACMP) for Foreign Nationals course has been designed to give participants the experience and knowledge required to work in a management role. It also gives them the opportunity to gain a greater understanding of management in an economic context".
All of the participants involved in the course see the course as an opportunity to broaden their management and business skills . As one current student explains: " One thing I can say for certain about the HATCH Programme is that it made me think about who I am, how I can improve myself and increased my self-awareness. The programme is very practice oriented which is exactly what you need as you cannot run a business or anything else on theory! I would recommend it, not only to managers, because it gives you tools you can apply in different aspects of your life"