Published on:23 Mar 2011
Focus on female entrepreneurs.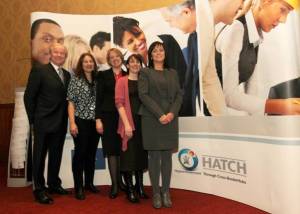 Pictured are Female Entrepreneurs Anka Morgenroth (second from left) and Anna Costello (far right), who together with ten other female entrepreneurs from across the ICBAN region are participating on the EU INTERREG lVA HATCH Programme.
Dympna McCarron, Project Manager describes the initiative as follows: "The particular course of study the ladies have embarked on is the Advanced Diploma in Management Practice , specifically designed for Female Entrepreneurs. This highly interactive, block release programme specifically develops and challenges management capability across a wide range of disciples including strategy, operations and leadership and introduces the participants to the experiences of other entrepreneurial role models".
Vincent Reynolds, CEO of Cavan County Enterprise Board say "The programme is an excellent next step for women in business who having started their own business wish to progress to the next level"
Anka Morgenroth, Bear Essentials praised the programme for facilitating the opportunity to stop and think about her business and how through the application of practical methodologies she might develop her business offer. As Anka explains : "The teaching has equipped me with a number of business development tools which I am already implementing within Bear Essentials with positive effect"
Anna Costello of Utopia values in particular the networking and personal development opportunities which the programme has afforded her. Anna considers the networking and personal development elements of the programme as particularly powerful. She says "Through the programme I feel empowered and supported in my plans for taking the business to the next level"
This group will complete the programme in June at which time a new programme will open up to interested participants.