Published on:26 Mar 2013
Susan Mc Donnell, is just one of the delighted students who recently graduated from the specially designed Advanced Diploma in Management Practice – Female Entrepreneurs Programme.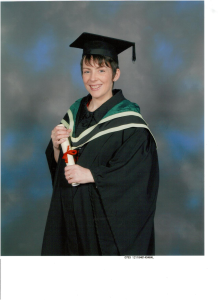 Pictured is Susan Mc Donnell, one of the delighted students who graduated recently from the specially designed Advanced Diploma in Management Practice – Female Entrepreneurs Programme. This is one of the many accredited programmes on offer through the HATCH (Higher Attainment Through Cross-Border Hubs) Project. HATCH is designed to support and develop a number of groups including Female Entrepreneurs, Foreign Nationals and those from the Construction & Engineering Sector through a series of accredited programmes and networking events. The project has been part-financed by the European Union's INTERREG IVA Programme, managed by the Special EU Programmes Body. (SEUPB)
Dympna McCarron, Project Manager described the recent event held at the University of Ulster, Jordanstown as "well -earned recognition of the inputs of the participants into the programme and a celebration of the results achieved".
Susan herself explained her journey as follows:
" I was delighted to be given the opportunity to participate in the Advanced Diploma in Management Practice for Female Entrepreneurs, through the HATCH programme, in 2011. I had attended many postgraduate clinical courses since obtaining my Physiotherapy Degree in 1999. However, this was the first time I entered into formal academia since then. I enjoyed enhancing my academic skills through the broad ranging media forms which have emerged over the past two decades.
I am one of the co-founders of Pilates Physiotherapy Ireland. Pilates Physiotherapy Ireland was co-founded in 2008 by 2 Chartered Physiotherapists with shared objectives and individual business models. Pilates targets the deep trunk and spinal muscles and can improve 'normal movement'. I offer the benefits of Pilates with the expertise of a Chartered Physiotherapist in Cavan and Monaghan.
One of the reasons for starting the business was to acquire business skills, which are not required within the role of a Physiotherapist within the public service. With a diverse group of lecturers and modules, the course has greatly enhanced my business, leadership and financial knowledge. It has re-enforced how important personal development, goal setting and seeking new challenges are to my work/life balance. I now have renewed motivation to continue to set new objectives e.g. using structured financial methods. In these challenging economic times, I have learned that success does not always have to mean growth and expansion. Sustainability may also be a crucial component to a successful business!
The graduation ceremony for the course took place in University of Ulster, Jordanstown in December 2012. This turned out to be a rewarding acknowledgement of hard work and achievement, yet another motivational experience, which will continue to drive my enthusiasm. James Nesbitt, the University Chancellor and Actor made a fine speech. His words still echo in my ears when he said 'Education is not a privilege, but a responsibility for us to pass onto others'. I will remember this as I pass on my clinical knowledge to clients and as I lead others in the future".