Seminar to help you improve your English by supported private study, to prepare for the English for Employability entry test.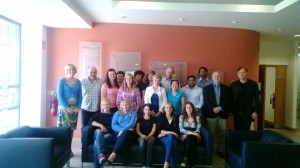 Pictured are some of the students who participated on the Improving your English Pre-sessional Seminar hosted by the HATCH Programme at Cavan Innovation & Technology Centre (CITC) recently. The HATCH Programme is part-financed by the European Union's INTERREG IVA Programme and managed by the Special EU Programmes Body (SEUPB). This funded programme is being delivered by CITC in conjunction with South West College, University of Ulster and the Irish Central Border Area Network (ICBAN). The HATCH programme is designed to educate and provide networking support for eligible participants from the non national community amongst other benefitting groups.
Dympna McCarron, Programme Manager (HATCH) explained how the demand for the BEC Cambridge Accredited English for Employability Programme has grown in recent years. Competition for the 15 places available each year has grown steadily, so the HATCH Management Team and the Teaching Team led by Arthur McKeown from the University of Ulster decided to run a one day seminar to assist adult learners in preparing for the entrance test for the programme.
The students from all over Europe, Asia and Africa welcomed the opportunity to discover the techniques in learning English effectively, including grammar and vocabulary, as well being introduced to on line resources which would support private study over an 6 week period. The students will then sit the test which if successful, will allow them to access the 12 week English For Employability Programme which culminates in the BEC Preliminary English Exam.
Arthur McKeown, the Course Director explains how the BEC examinations assess language skills in a business context. They are part of the Cambridge ESOL range of examinations www.cambridgeesol.org and are linked to the Common European Framework of Reference Levels.
The aim of the HATCH English for Employability Programme is to assess and develop participant's ability to operate in English in a business or working environment. It allows candidates to demonstrate to employers their ability to communicate in English with clients and colleagues and it provides an internationally recognized examination to do this which is fair to all candidates and is delivered to international standards.
Arkadiusz Kocurkiewicz, one of the previous beneficiaries of the programme, said of the course; "the content, materials and tutor are of the highest level. Lectures were very clear and easy to understand. The possibility to repeat and practice online was very helpful and most beneficial". As a result, Arkadiusz says that "the course made me more confident in everyday life and in the workplace. I used my new skills as a good base to start another courses and improved my career."
For further information on this or any of the programmes support by the HATCH Programme, E:mail: HATCHadmissions@cavanitc.ie; www.Cavanitc.ie/HATCH