Published on:02 May 2012
Shauna Gallagher recieves award from the Belfast Telegraph for the Young Entrepreneur of the year 2012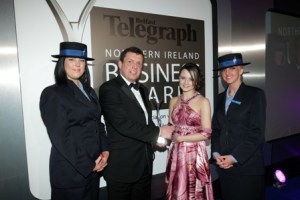 The last twelve months have been busy for Fermanagh based business woman, Shauna Gallagher. She was a participant on the EU INTERREG lVA funded HATCH (Higher Attainment Through Cross-Border Hubs) programme managed by the Special EU Programmes Body (SEUPB) and graduated as part of the programme with an Advanced Diploma in Management Practice for Female Entrepreneurs from the University of Ulster; She gave an address to almost 100 fellow entrepreneurs at a very successful cross-border event hosted by HATCH at the Slieve Russell Hotel in Cavan and still found time to take on the distribution of her new Mineral Make up line.
In April, Shauna added further to her list of achievements by taking to the stage to accept the coveted Belfast Telegraph Young Entrepreneur of the Year Award.
Shauna's business journey began with her own personal struggle with sensitive skin and finding suitable, affordable solutions which used only the finest natural ingredients. Having made product for herself she was soon selling to those who shared her passion for product which is " good for your skin, good for the environment, good for your pocket". From these beginnings, Natures Inspiration was born.
Dympna McCarron, Project Manager for the HATCH Project congratulated Shauna on her success on behalf of the project partners University of Ulster, Cavan Innovation & Technology Centre, Cavan County Enterprise Board, South West College and the Irish Central Border Area Network (ICBAN). Dympna went on to say that "Shauna's exemplary approach to business to date, means that the partners are sure that this will only be the start of her successes . Shauna and Natures Inspiration provides encouragement to business women everywhere to find you market niche and go out and make it happen".