Published on:27 Apr 2011
Enterprising Females HATCH an Exciting Easter Programme!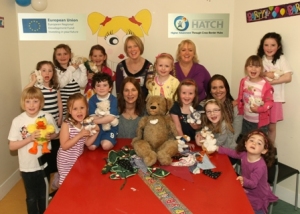 Pictured are Female Entrepreneurs Anke Morgenroth and Ann Reilly together with some of the children who participated on their very successful Teddy Bear and Easter Bunny Workshops in Livewirez activity centre, Cavan town on Saturday 23rd April.
The women, who together with ten other female entrepreneurs from across the Central Border Region region, are participating on the HATCH Programme. This programme is designed to support and develop Female Entrepreneurship through a series of accredited programmes and networking events and has been part-financed by the European Union's INTERREG IVA Programme, managed by the Special EU Programmes Body. Having met as participants on the programme Ann and Anke developed this wonderful Easter Camp concept for children incorporating Ann's Children's Playgroup Centre in Cavan town and Anke's Craft and Tourism in Bawnboy, County Cavan.
The enterprising women developed a fun filled Easter programme where children from 5 -12 could come and make their own Teddy Bears and Easter Bunnies in the very child friendly Livewirez play centre. The children pictured proudly show their individual creations from their supervised workshop.
Dympna McCarron, Project Manager of HATCH describes the initiative as follows: "The particular course of study the ladies have embarked on is the Advanced Diploma in Management Practice , specifically designed for Female Entrepreneurs. This highly interactive, block release programme specifically develops and challenges Female Entrepreneurs to think about their products and services differently. The ladies have very successfully combined their separate businesses to offer a very unique and creative alternative to play for young children in County Cavan. These ladies are wonderful role models for Female Entrepreneurs and have literally made business 'childs play'!!
Ann Reilly, owner of Livewirez says "The programme is an excellent next step for women in business who having started their own business wish to progress to the next level" Ann considers the networking elements of the programme as particularly powerful. She says "Through the programme I feel empowered and supported in my plans for taking the business to the next level"
Anke Morgenroth, Bear Essentials praised the programme for facilitating the opportunity to stop and think about her business and how through the application of practical methodologies she might develop her business offer and that of businesses which she mentors. As Anke explains : "The teaching has equipped me with a number of business development tools which I am already implementing with positive effect"
Ann and Anke together with the other 10 class participants will complete the programme in June at which time a new programme will open up to interested participants.