AONTAS – The Voice of Adult Learning – The Star Awards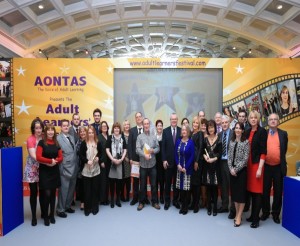 In early January, the Higher Attainment through Cross border Hubs (HATCH) Programme was nominated for a Star Award from AONTAS – the National Adult Learning Organisation. HATCH has been part-financed by the European Union's INTERREG IVA Programme, managed by the Special EU Programmes Body (SEUPB), with the Irish Central Border Area Network (ICBAN) as Lead Partner. The nomination was in recognition of the exemplar work the programme has been doing in offering third level accredited programmes and networking opportunities to the Construction & Engineering Sector, Female Entrepreneurs and Foreign Nationals.
"We wanted to find a way to highlight the tremendous work of adult and community education organisations" said AONTAS Director Berni Brady. "The awards assessment process is intense. Projects must first submit an application with details about their work. They must demonstrate strong evidence of outcomes for learners. Projects are then short-listed by a panel of independent judges. The judges then meet with each of the projects shortlisted before choosing a winner. This process ensures that we can say that a STAR Award is really a mark of recognition and quality in adult learning".
Consequently, after a month of hard deliberation, the independent STAR Awards Judging Panel drew up a shortlist of projects from 71 fantastic nominations. A total of 34 projects were shortlisted from the five categories. HATCH was shortlisted as one of the final six in the Ulster Category.
Subsequently, meetings were held around the country, where the shortlisted groups got to showcase their projects to the judges. The process culminated in an awards ceremony at the Double Tree Hotel, Dublin on the 24th February.
Speaking at the awards, Mr Paul O'Toole (CEO, SOLAS) said "The range of projects submitted for the awards this year once again highlights that learning isn't just in the classroom. Both the providers and learners have shown that tailored, high quality learning can occur in many different formats across many different facets of life".
Commenting on the event, Dympna McCarron, Programme Manager, HATCH said that "the nomination and short-listing was fitting recognition of the work of all the project partners in delivering the programme and of the achievements of the students across all three benefitting groups. We were delighted to be invited to the event to represent the project, its funders and the beneficiaries".
Notes:
AONTAS is the National Adult Learning Organisation. It is a non government membership organisation established in 1969.
The name AONTAS is an acronym in the Irish language; Aos Oideachais Náisiúnta Trí Aontú Saorálach, meaning 'national adult education through voluntary unification'. The word AONTAS itself is also the Irish word for 'unity' or 'union', so the intention of the founders was that AONTAS would be identified by its inclusiveness. AONTAS is a registered charity and a company limited by guarantee. The company is are core funded by the Department of Education and Skills.