HATCH BIM/CAD participants are one of the first group of students to benefit from the specialist tutoring facilities at South West College.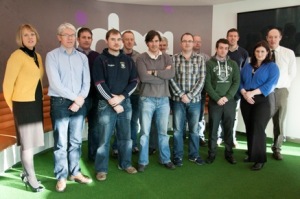 Pictured along with their tutor Fiona Brazill from South West College are some of the students from the innovative BIM /CAD programme, which recently commenced at the newly opened Design Centre (IDEA) in South West College, Omagh. This state of the art centre brings together the latest in specifically designed business learning environments and the newest introductions in construction and engineering technologies.
The group pictured are from across the Central Border Region (including Fermanagh, Tyrone and Cavan) and are participating on the Higher Attainment through Cross border Hubs (HATCH) Programme. The HATCH programme is designed to support and develop the Construction & Engineering sector through a series of accredited programmes and networking events. HATCH has been part-financed by the European Union's INTERREG IVA Programme, managed by the Special EU Programmes Body, with the Irish Central Border Area Network as Lead Partner.
Speaking about the new BIM / CAD programme, Course Tutor Fiona Brazil explains: "Building Information Modelling (BIM) is becoming an essential component of public procurement for design teams and in the on-going management and use of our built environment. These students are the first to learn how to extract information from the building model (schedules and material take-offs), create 2D drawings from BIM, produce presentation standard drawings on plotters and generate a rapid prototype model of one of their drawings. In addition, this course has the added value of being accredited by UK National Open College Network (NOCN) at Level 4".
As Dympna McCarron, Programme Manager HATCH explains; "We are delighted that the HATCH programme is one of the first to benefit from the specialist tutoring and excellent facilities here at South West College. The aim of the programme is to bridge the gap between the training needs of individuals and businesses in the region with those of the ever changing construction and engineering sector. This programme does exactly this and it is particularly unique in that it addresses accredited business education and networking requirements on a cross-border basis"
One of the participants on the programme praised the course by saying "Everything I have learnt in the course I will take forward with me, in my business and in the future. It has really helped me understand BIM and associated technologies. Without the HATCH programme this learning and qualification would not be obtainable (for me or my business) from a local access or cost perspective".