Cavan Chamber of Commerce invited representatives of the Polish Embassy Trade Department to come to Cavan to discuss ways in which we can work together in a mutually beneficial way to develop business relationships between Polish and Cavan businesses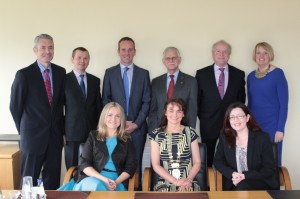 BR – L to R- Jim Fox, Przemylaw Buczkowski, Andrew O Gorman, Jacek Jedruszak, Vincent Reynolds, Dympna McCarron
Front Row – L to R – Agnieska Adamska, Lyn Sharkey and Marcella Rudden.
Cavan Chamber of Commerce invited representatives of the Polish Embassy Trade Department to come to Cavan to discuss ways in which we can work together in a mutually beneficial way to develop business relationships between Polish and Cavan businesses. This meeting took place on Friday 27th June in Cavan Innovation & Technology Centre.
According to Chamber President, Lyn Sharkey "In our efforts to promote Cavan as a place to do business, approaching the Polish Embassy seemed like an obvious starting point, since we already have a vibrant Polish Community here. There were several points to discuss including how we can further integrate and encourage Polish entrepreneurs in Cavan and how we can work together to introduce Polish and Cavan businesses who may be suitable for partnerships"
Mr Jacek Jedruszak, Commercial Counsellor and Przemylaw Buczkowski, Ist Secretary Trade and Investment Section, accompanied Ms Sharkey, and Andrew O'Gorman, Chamber Director to a meeting at Cavan Innovation & Technology. They were accompanied by Agnieska Adamska, Principal of the Polish School and an active representative of the Polish Community in Cavan. Ms Adamska, like Ms Sharkey, is a previous beneficiary of the HATCH programme.
At the meeting Dympna McCarron, Programme Manager HATCH gave Mr Jedruszak and Mr Buczkowski a presentation on the many services, supports and courses offered through the HATCH Programme. Mr Reynolds, CEO Local Enterprise Office (LEO), together with James Fox and Marcella Rudden from the LEO team, acknowledged the possibilities for building on existing relationships and partnerships between their client companies and Polish companies. Mr Reynolds detailed the synergies between Cavan Innovation & Technology Centre, the HATCH Programme and the Local Enterprise Office and the opportunity for sign posting of clients and beneficiaries to give them complete business solutions from education and networking to mentoring and micro finance.
The meeting was very positively received by all in attendance and the facilities were very impressive to our Polish guests. Mr Jedruszak and Mr Buczkowski as they were leaving said that they were very happy, encouraged and impressed by their first visit to Cavan and hoped to meet again to develop partnerships very soon.